It was a quick decision made to visit Europe during autumn 2009. The AirAsia promotional airfare (during Oct 08) from KUL – STN was so attractive that I've made the booking immediately! That leave me roughly 11 months to plan and prepare for the trip. It was just a 8 days trip, and I have decided to go to 3 specific places (and countries) on backpack! The first thing to plan your itinerary: (1) Lock down your destination(s).
I've been studying and working in London for 3 years, hence staying longer in the UK was not my plan. I would just estimate my stay in London for 2 days (6 days left). My next preferred destination was Interlaken, and of course Jungfraujoch (pronounced as Yong-Frau-York) in Switzerland. This was the place I have missed out from my last visit to Switzerland 5 years ago, and I'm definitely heading to the Alps this time! Last but not least, Paris is a romantic destination you cannot miss if you are travelling with your partner.
Once you have picked your destinations, (2) draft your travel route in a map, it's as easy as joining the dots! Google Map offer a good way to start. Plotting your travel route in a map will let you have a general idea of where you will be going, and it also let your friends and family know your whereabouts during the trip. Below is my travel map.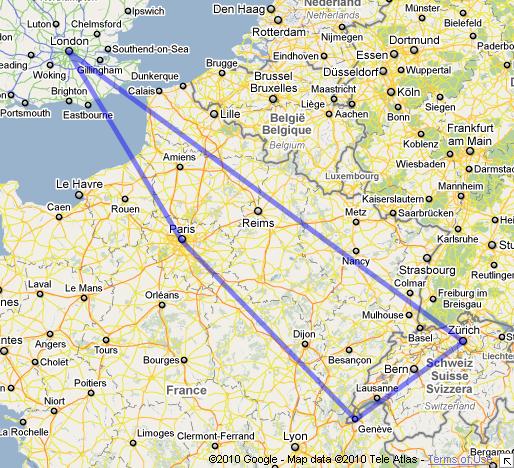 If you have noticed, Interlaken is not plotted in the map. Sometimes, the place you wanted to go may not have airport for you to reach there. The nearest airport is either Berne, Zurich or Geneva; and perfectly, Interlaken was situated in between these Swiss city! I have decided to fly to Zurich and head south towards Interlaken and Geneva.
Interlaken is the entry point for most visitors to Jungfraujoch – the top of Europe, I did some homework to find out the local attractions and tour packages. Most tour suggested that Jungfraujoch is a full day excursion, that would make my stay for at least 2 nights in Interlaken (3 days left).
My next focused destination is Paris, France. From Interlaken to Paris, I found out we have 2 possible routes: Berne-Paris via train or Geneva-Paris via flight (or train). Travel via rail is obviously cheaper than flight, but it takes longer time, often 1-2 hours more. Besides that, I have to check the timetable for the best possible schedule according to my itinerary.
My initial plan does not include Berne as a travel point. Now I have to find out what I can do in Berne versus Geneva, and then decide where I should depart from Switzerland to France.  I have been to Berne in my previous trip, it's the capital of Switzerland, a beautiful medieval town with cobblestone streets. Geneva on the other hand, has a diverse history dating back to the Protestant Reformation. Situated along the banks of Lake Geneva at the foot of the Alps, Geneva is a paradise for landscape photographers!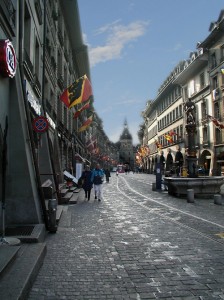 While I have no decision yet whether to depart from Berne or Geneva, let's continue my planning on Paris. I would like to know what attractions we have in Paris, google search result returns with tons of places to visit in Paris. Estimate stay for 2 nights in Paris (0 days left).
Below is my drafted itinerary so far. Continue with Part 2.