I should be reaching Paris on the morning of Day 5. This mean I need to catch the earliest train from Geneva to Paris. The reason I've chosen train instead of flight is because my hostel in Geneva is just 10 minutes walk from the Main Train Station. This will save me some time and money travelling to the airport, especially in the morning hours. To book your train ticket, check out the Europe Speed Trains here. The earliest train departs at 0717 from Geneva, arriving at Paris Gare De Lyon (GDL) by 1051. The entire journey took around 3.5 hours.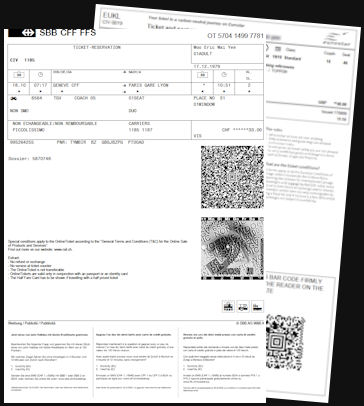 For the next 48 hours, I will be focusing my visit in Paris. The first thing that popped up my mind was commuting within the city. My plan was to see as much as possible of the city, and also to visit the usual tourist attractions like Eiffel Tower, Lourve Museum, Arc De Triomphe, and Notre Dame. I need a fairly cheap "unlimited" metro travel pass. The reason to go for a travel pass is money-saving and to avoid the hassle of queuing to buy ticket (that's such a waste of time!).
For backpacker like myself, you would either go for a Mobilis Card or Paris Visite Pass. Mobilis Card is a one-day unlimited travel (based on zones) pass using Metro, RER (Regional Express Networks) and bus. Paris Visite however, offers extra saving/discount on specific attractions in Paris. Both passes is an initiative from RATP, a transit operator responsible for public transportation in Paris. If you plan to visit Paris for more than 4 days, I would recommend you to get a Paris Pass instead. The Paris Pass offer you even more saving in terms of attractions, bus tour, free entry to museums, etc.
Well let's start planning my own tour! First thing first when I reach Paris, check into my hostel, keep my luggage, wash up and have some rest. Next, I need some foods to keep me up and running! Heading to the Lourve Museum will be next, spending perhaps 3-4 hours, then proceed to the Eiffel Tower for sunset. I'm not planning to go up the tower, hence I will be taking pictures and wondering around until evening. Time for dinner by then, perhaps a quick meal, then I will be heading to Arc De Triomphe and Champs Elysees. By then, it should be just in time for a cabaret show at Lido until midnight. Lastly, returning to my hostel for a good rest.
Next morning, I've planned to visit the Paris Bibliotheque Library, then heading to Notre Dame before coming back to check out from my hostel. Then I need to find a way to store my luggage, either at the hostel or train station. Probably a quick lunch then will be heading to Versailles Palace (zone 4) for 2-3 hours (i know it's not enough). Back to central Paris after that, I will be heading straight to the tallest building in Paris – Montparnese Tower, hopefully to catch sunset in Paris. Last destination perhaps would be Sacré-Cœur (pronounced as "Sack-kray-co-r"), and then heading to Gare Du Nord to catch the last train to London.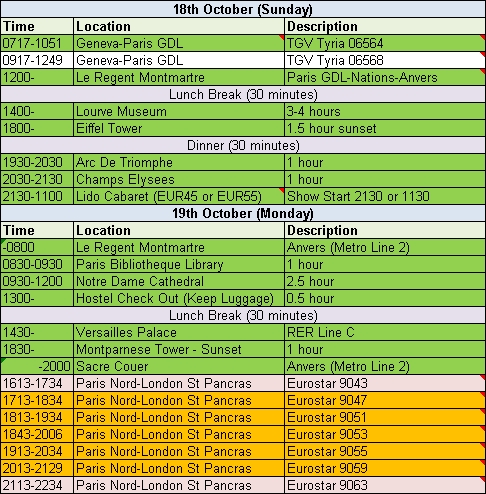 Some hidden tips of this planned itinerary:
Buy a Travel Pass when you reach Paris
Visit all attractions in one area, then only visit the next – Avoid wasting time traveling in and out the same area.
Choose an accommodation that is close to airport, train or metro station – I've booked Le Regent Montmartre (Very close to Sacré-Cœur, Anvers Metro and fairly close to GDN).
Store/Keep your luggage near your last stop – you can pick them up before you depart (you don't want to carry your luggage around?).
Make good use of your Travel Pass – I will be getting discount for Lido, Montparnese Tower, Arc De Triomphe and Bateaux Parisiens (River Cruise – if I have enough time).
Book, pay and print out your cross-country train ticket at least 1 month earlier – ensure cheaper price and availability.
---