Before I knew I will be riding on a railcar on the longest continuous strub-rack railway in the world, I actually planned to visit "The Top of Europe" 5 years ago. Jungfraujoch (pronounced as Yong-Frau-York), at an amazing 3454 metres, is Europe's highest-altitude railway station.
Continue from Part 2, I am going to plan my Day 3 itinerary. From a glance, it should be a faily simple itinerary, as I have dedicated a full day to Jungfraujoch excursion. Again back to my favourite search engine, look for "Jungfrau Attractions" and start listing them down on a note or draft.
Eigergletscher – Polar Dog Colony
Ice Gateway – Ice Palace
Sphinx Observation Terrace
Jungfrau Plateau – Snow Walk
Husky-drawn Sledge Rides (Summer)
Ski & Snowboard Park (Summer)
What about time and location (To answer the "How to get there; at what time" questions)? Again, search for Switzerland train schedules using this site. List down all the possible routes and alternative. You might also want to check what is the time of sunrise and sunset to determine what time you need to get up and/or get back.
There are 2 rail routes which will take you up to Jungfraujoch, one is via Grindelwald and another via Lauterbrunnen. Both routes splitted at a station called Zweilütschinen (I think it's pronounced as "Zwhy-Loo-Chi-Nen") and join back at Kleine Scheidegg (pronounced as "Cli-Ney-Sni-Deck"), before changing to a cogwheel train up to Jungfraujoch.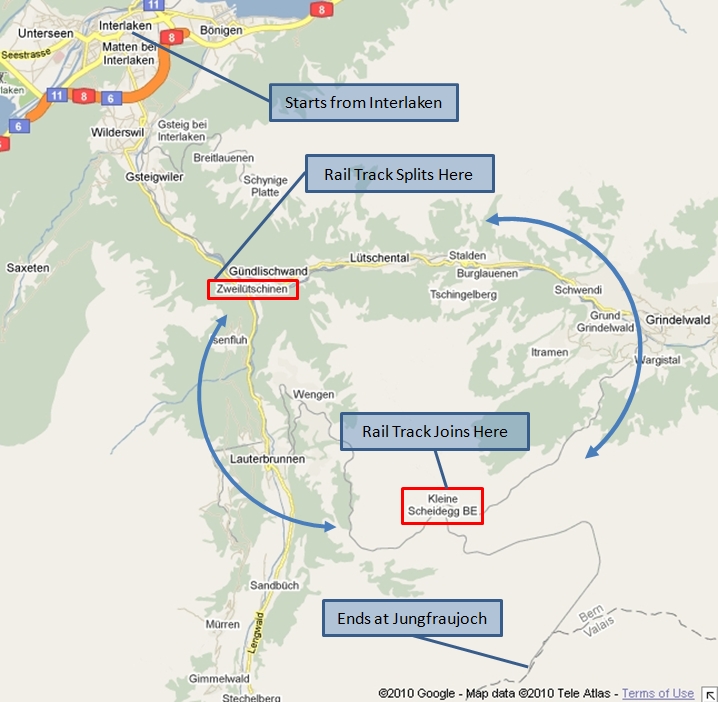 Back to my plan, currently you might starts wondering about my accommodation. I planned to stays at Interlaken on Day 2. On Day 3 morning, I will starts my journey to Jungfraujoch. I can choose to stay one night at either of the stops between Interlaken and Jungfraujoch, or stay back at Interlaken. My decision is to stay at Interlaken (another night), since I do not want to carry my backpack with me to Jungfraujoch!
I've booked my accommodation through this site for the first day, then I booked a Jungfraujoch Excursion package (which comes with 1 night stays at preferred accommodation) through here. What's next?