Continue from Part 1, we already have the general itinerary in mind, let's draft a more detail plan. Now we need to focus on (A) timing, as it is very important to our schedule, particularly on our flight and train schedule; (B) attractions, as this will determine how long we will spend in a particular place; (C) budget, as this will determine how much we will be spending.
Start from Day 1 again, Flight D7 2006 arrival time at London is approximately 1650. When we came out from the airport, travel to my friend's place, unpack, dinner, etc is already late evening. I prefer to rest and prepare for next day. Hence I have no plan for Day 1. On a contrary, if you do not want to stay overnight at London, I suggest you to book the earliest arrival flight to London, then transit to Switzerland (either Geneva or Zurich). Check out my post on Malaysian Travelers to Europe via AirAsia.
Day 2 planned for flight to Zurich, we need to check which airline have flight to Zurich from London, and which London Airports (Heathrow, Stansted, Luton, Gatwick, City)? This will be tedious process if you are new to European Airlines, but I have summarized the below based on my research for your reference.
Based on the above, I have drafted a comparison chart that shows flights departing from London to Zurich on 15th October, 2009: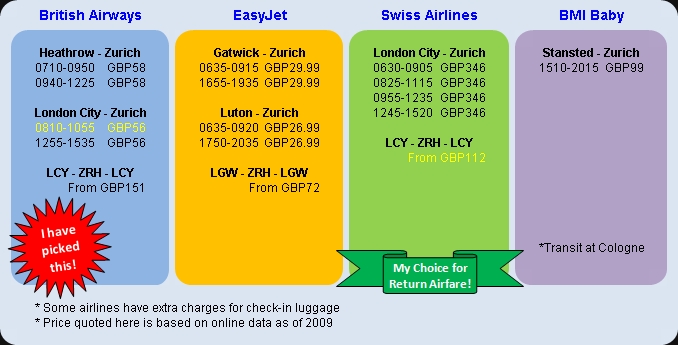 Once I have a comparison chart, I will base my selection on 2 criterias, time and budget. First I need to get to Zurich as early as possible to avoid wasting too much time. Second, I need a fairly economy flight to minimize expenses. From the above chart, it seems that Easyjet is the obvious choice. However, considering the distance from London to Gatwick/Luton to catch the morning flight, which mean I have to wake up in the middle of the night, catch a cab and travel to the airport, it's a nightmare!
My second choise is British Airways, although it's double the price of Easyjet, but I save on my travel time to airport, and I have more choices on flight schedule. Since I stay in East London, the earliest flight to Zurich (ZRH) from London City Airport (LCY) is my best option. Let's put this down in my itinerary. However, if you plan for a return trip to/from Switzerland, I would recommend Swiss International Airlines for better offer.
I know I will reach Zurich by 1055 travel via BA8763, and my final destination for Day 2 is Interlaken. I need to find out how I would travel from Zurich to Interlaken. 3 choices: car rental and drive myself; take a bus/coach; take a train. Driving in Switzerland is left-handed drive on the right lane, different from Malaysia (I've tried that 5 years ago, it's daunting!). Furthermore, I need an international driving license. Taking a bus or train is less hassle.
After searching from the Internet, I've decided to travel via rail. If you are staying at Switzerland for more than 5 days, I recommend you to get one of the Swiss Travel Pass for cost saving. I only planned to stay in Switzerland for 3 days, hence I will go for the single journey tickets. SBB has one of the best online services to search, book and pay for your rail travel in Switzerland. I can also search for rail schedules as well to plan my itinerary. How I did that? Search for train schedule from Zurich to Interlaken (you will either route via Berne or Lucerne (Luzern). I have been to Berne in my previous trip. Luzern is my choice this time. From Luzern to Interlaken, there is a rail service call GoldenPass Line, which offers a magnificient panoramic view from inside the coach. This rail service will brings you to the most scenic route in Switzerland.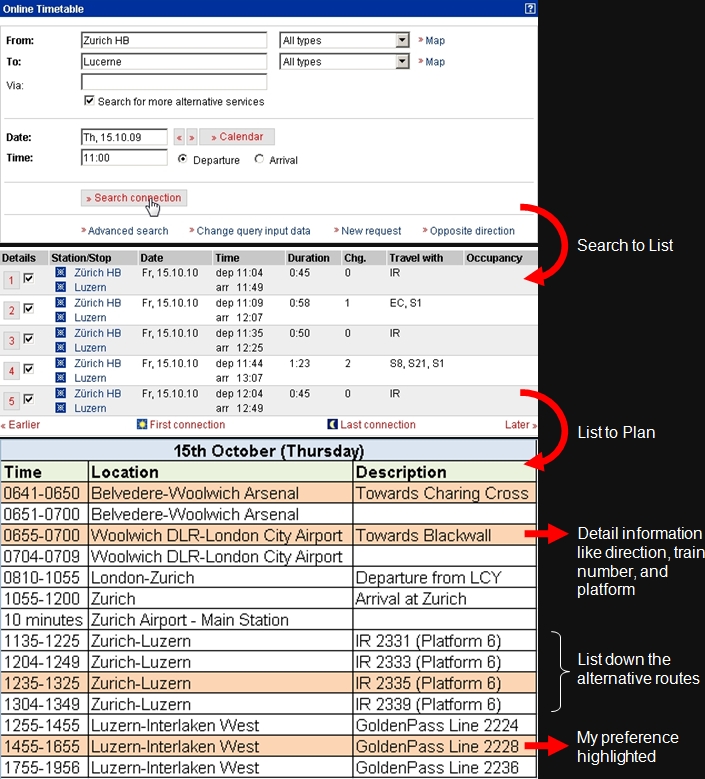 Now I have an idea of my travel time, let's plan some visits. Check out Zurich and Luzern attractions from the Internet, and I estimated a stay in Zurich for 2 hours, Luzern for 1 hour. Go back to the SBB website and search for schedules between Zurich – Luzern and Luzern – Interlaken. List down a few alternatives for decision later. This is very useful if you missed a train, or you decided to spend more times on a place; at least you know when is the next train schedule. Up till now, I have drafted something like the above in my itinerary, including also the travel route from where I stay (Belvedere) to London City Airport. I used this to plan for that.