This post will be the last part of my Europe Itinerary blog series. A quick recap on my previous post, if you have noticed the way I planned the time in Paris, it's different than in Switzerland. It was planned to be more flexible, allowing each planned item to move earlier or later, depending on the actual day itself. In fact, the frequency of metro service is quite high, I do not need to specifically plan the departure/arrival time of each metro service.
Proceeding from my arrival to London St. Pancras, I have arranged with my friend to pick me up from the train station. That should be the end of my Day 6 plan. Next morning (Day 7) I've planned to revisit a few usual attractions in Central London. I listed down where I want to go, then I plotted the route to these destinations.
First of all, you need a London Underground Map or a London Tourist Map. Alternately, you can try Google Map online. A sample of my plotted map below.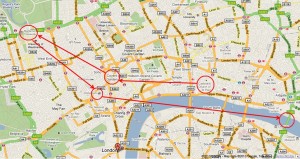 On Day 8 (last day) early morning, I will be heading to Waterloo Station, crossing over to visit London Eye. I've also arranged to meet up with some of my friends in London for lunch. After lunch, I should be heading to London Stansted Airport for check in. Tips: Allow at least 2 hours check in time for international flight. If at London Heathrow Airport, allow at least 3 hours instead!
That's basically my whole Europe itinerary. However, when there's vacation plan, there's budget! Budget is about money. We need to estimate how much money we need to bring along for spending. Of course you can use credit card, but it's always safer to keep some cash in hand. Below is my Europe Trip budget for 2 persons, excluding return airfares and travel insurance.

I will cover my next blog series of The Europe Excursion pretty soon. Do check back.